Welcome to Camping Le Clos Cacheleux, an exceptional place in the heart of the Bay of Somme. Our unique campsite near Saint-Valery-sur-Somme blends traditional camping with unconventional accommodations. It offers an experience that combines comfort, relaxation, and complete immersion in the surrounding nature.
Unusual Rentals in the Heart of Nature If you're looking for an extraordinary stay in the Bay of Somme, your ideal destination will undoubtedly be Camping Le Clos Cacheleux! We offer treehouse cabins, an extraordinary camping experience where you can wake up in the canopy and enjoy breathtaking views of the surrounding nature. We also provide other unusual accommodations in the Bay of Somme that will delight adventure and nature enthusiasts, such as romantic bubble lodges, eco-friendly lodges, family or romantic tipis, tiny houses, and even tree tents.

Traditional Camping Sites in the Bay of Somme If you're a fan of traditional camping, our spacious and shaded pitches nestled in a wooded park will delight you. At Camping Le Clos Cacheleux, we preserve the essence of camping by offering you the opportunity to immerse yourself in nature while having your own space for your tent, caravan, or camper.
At Camping Le Clos Cacheleux, we've thought of everything to make your camping experience in the Bay of Somme as pleasant as possible. We provide essential services, such as a wastewater disposal area, electrical hookups, and more. This allows you to enjoy your stay in the Bay of Somme with peace of mind. Take a well-deserved break at Camping Le Clos Cacheleux for a night, a weekend, or a longer stay. Enjoy the friendly atmosphere of traditional camping in the Bay of Somme.
Facilities and Relaxation For your comfort, Camping Le Clos Cacheleux has a heated and covered pool, ideal for a relaxing swim regardless of the weather. You can also relax in our spa area with a Jacuzzi and sauna, or book a massage for total relaxation. During the season, the nearby Camping Le Val de Trie team organizes friendly evenings to entertain both young and old, and our children's club ensures unforgettable vacations for the little ones.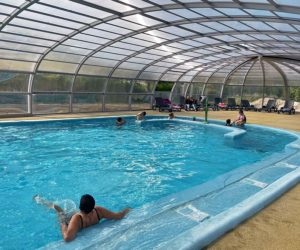 Discover the Natural Beauty of the Bay of Somme The Bay of Somme, located in the Hauts-de-France region, is a highly appreciated vacation destination for its natural beauty and preservation. The landscapes of the Bay of Somme, with its vast marshes, dunes, and beaches, offer unparalleled tranquility and serenity. The region's natural reserves, including the Marquenterre Park, house a wide variety of migratory bird species, making it a favorite spot for birdwatching enthusiasts. The fine sandy beaches invite leisurely walks along the seashore, while trails offer outdoor enthusiasts the opportunity to go cycling or hiking.
Moreover, the Bay of Somme offers a unique experience for the whole family. You can enjoy clam and shrimp fishing, an exciting activity that will delight both young and old. During your walks along the vast beaches, keep an eye out for magical encounters with seals and sea lions, majestic animals that are an integral part of the region's marine life. Explore the magic of the Bay of Somme aboard the retro steam train, an unforgettable experience that takes you through the picturesque landscapes of the region. It's a fascinating journey, allowing you to explore the natural beauty and history of the Bay of Somme while enjoying a nostalgic ride. Let yourself be captivated by this unique adventure.
This variety of outdoor experiences makes the Bay of Somme a peaceful vacation destination for those seeking a place to recharge in nature.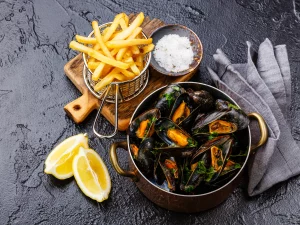 Picardie Cuisine and Warm Hospitality During your stay in Picardy at Camping Le Clos Cacheleux, don't miss the opportunity to savor local delicacies. The region is known for its seafood, flavorful sole, iconic moules-frites (mussels and fries), and Picardie specialties like ficelle picarde, leek flamiche, beef carbonade with beer, and, of course, gâteau battu (a local cake). Accompany your meals with local beer for an authentic culinary experience.
Picardy is also known for the warm hospitality of its residents, providing moments for conversation and shared social interactions. Your stay in Picardy will be marked by discovering the local culture and unforgettable encounters. Come experience Picardy like a local and be charmed by its authenticity.
Camping 2.5 Hours from Paris Camping Le Clos Cacheleux in the Bay of Somme is located just 2.5 hours from Paris. This proximity makes it the perfect place for an unusual weekend getaway or a seaside stay. You can explore the treasures of the Bay of Somme, including the charming towns of Saint-Valery-sur-Somme, Le Crotoy, Fort-Mahon, the cliffs of Ault, and Le Tréport. Each day, discover new landscapes and have unforgettable experiences.
Book a Camping Experience in the Bay of Somme Camping Le Clos Cacheleux in the Bay of Somme is the perfect choice for a nature-filled vacation, an unusual experience, or a rejuvenating seaside escape. Join us for a unique adventure in the preserved nature of the Bay of Somme.